TAM Goedkope Vliegtickets
Boek je TAM vluchten veilig online aan de laagste prijs!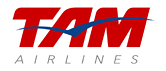 Vliegticket promoties TAM
De getoonde prijzen zijn de laagste prijzen die recent door onze klanten zijn geboekt naar deze bestemming(en). De actuele prijs kan gewijzigd zijn en vind je in onze zoekmachine. Prijzen op basis van heen/terug incl taksen. Dossierkosten vanaf € 19,50 (1 pers.) en € 35 (vanaf 2 pers.). Gratis betalen met Belfius, Mastercard, Visa, Bancontact, Maestro of iDeal.
Informatie TAM
Met goedkope vliegtickets van TAM (JJ) begint je reis naar Brazilië al in Europa
TAM is grootste luchtvaartmaatschappij van Brazilië en zelfs van Latijns Amerika. De maatschappij is gevestigd in Brazilië en beschikt over een moderne vloot zoals diverse toestellen van Airbus en Boeing.
Vanuit Europa vlieg je met TAM veelal via Parijs of Londen naar Rio de Janeiro. TAM heeft ook een uitgebreid routenetwerk binnen Brazilië en Zuid Amerika, feitelijk naar alle grote steden zoals Buenos Aires, Santiago de Chili, Montevideo en Sao Paulo. TAM heeft overigens ook een 120-tal binnenlandse routes. Mocht je plannen hebben om eens een bezoek aan Brazilië of Zuid Amerika te brengen dan is TAM zeker luchtvaartmaatschappij die wij kunnen aanbevelen.
Sterke punten TAM
Alle TAM tickets naar Brazilië
Gratis 23kg bagage meenemen
Ook alle domestic bestemmingen
Geheel Latijns Amerika
Overstappen in Londen of Parijs
Hotels van budget tot luxe
Geen reserveringskosten!
Wagenhuur overal ter wereld
Geen reserveringskosten!
Meer veelgeboekte airlines