THAI Goedkope Vliegtickets
Boek je THAI vluchten veilig online aan de laagste prijs!
Non-stop Brussel-Bangkok met de nieuwste THAI Airbus 350
Thai Airways International vliegt je 6x per week* comfortabel en non-stop van Brussel naar Bangkok met de nieuwste zeer comfortabele Airbus A350-900, op maandag, dinsdag, donderdag, vrijdag, zaterdag en zondag. In Economy Class mag je zelfs tot 30kg bagage gratis meenemen! Via Bangkok reis je met THAI naar heel Azië en Australië/Nieuw Zeeland.
* 6e wekelijkse vlucht per maandag 28 oktober 2019.
Vanaf maandag 28 oktober een 6e wekelijkse vlucht Brussel – Bangkok
Vanaf 28 oktober 2019 start THAI met een extra (6e) wekelijkse non-stop vlucht Brussel – Bangkok, elke maandag. Juist op deze extra maandag-vluchten vind je regelmatig extra lage prijzen. TIP: Als je reisplannen hebt naar Bangkok, vergelijk dan zeker en vast ook deze extra vluchten op maandag.
De beste deals van THAI Airways International
Brussel – Bali
Heen: 02/04/2021
Terug: 10/04/2021

€

911 »
Brussel – Bangkok
Heen: 09/04/2021
Terug: 23/04/2021

€

679 »
Brussel – Chiang Mai
Heen: 06/05/2021
Terug: 14/05/2021

€

789 »
Brussel – Hanoi
Heen: 30/04/2021
Terug: 08/05/2021

€

982 »
Brussel – Jakarta
Heen: 29/04/2021
Terug: 07/05/2021

€

900 »
Brussel – Kathmandu
Heen: 21/05/2021
Terug: 02/06/2021

€

1070 »
Bangkok – Koh Samui
Heen: 23/06/2021
Terug: 30/06/2021

€

295 »
Brussel – Melbourne
Heen: 22/08/2021
Terug: 06/09/2021

€

1165 »
Brussel – Phnom-Penh
Heen: 30/04/2021
Terug: 13/05/2021

€

835 »
Brussel – Sydney
Heen: 17/09/2021
Terug: 02/10/2021

€

1175 »
Brussel – Vientiane
Heen: 08/07/2021
Terug: 23/07/2021

€

1096 »
Brussel – Yangon
Heen: 19/05/2021
Terug: 03/06/2021

€

897 »
De getoonde prijzen zijn de laagste prijzen die recent door onze klanten zijn geboekt naar deze bestemming(en). De actuele prijs kan gewijzigd zijn en vind je in onze zoekmachine. Prijzen op basis van heen/terug incl taksen. Dossierkosten vanaf € 19,50 (1 pers.) en € 35 (vanaf 2 pers.). Gratis betalen met Belfius, ING Homepay, Bancontact/Mrcash, Maestro, Paypal of iDeal. Ook creditcards van Mastercard en Visa zijn meer dan welkom,
Business Class Promoties van Thai Airways International
Voor Promoties in THAI Royal Orchid Business Class kun je hier klikken om naar onze special actiepagina te gaan.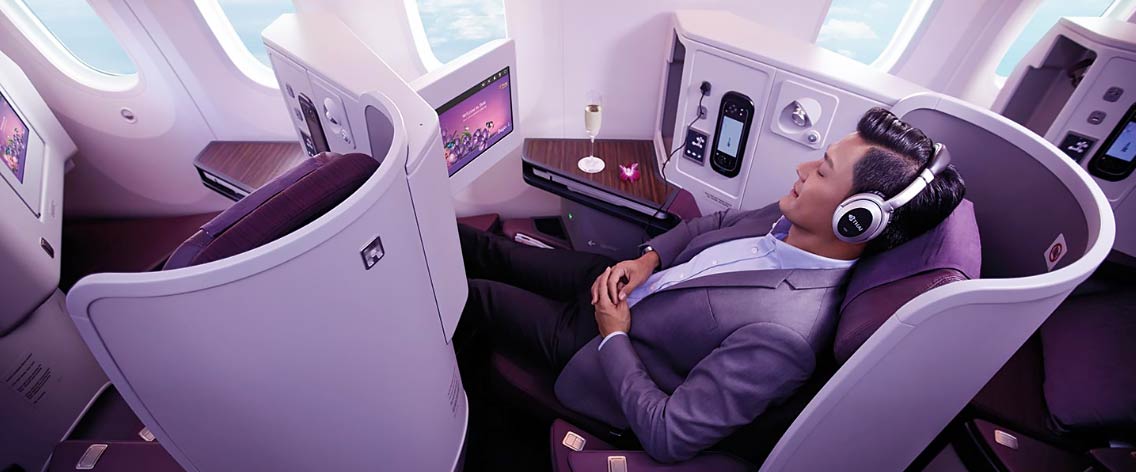 Thai Airways International goedkope vliegtickets naar Azië en Australië.
Thai is de aangewezen keus voor jouw droomreis naar Thailand. THAI biedt een perfecte service, met 5 non-stop vluchten per week van Brussel naar Bangkok. En… je reist met de allernieuwste Airbus A350-900, een prachtig toestel met panoramische ramen, extra beenruimte, sfeerverlichting, peronal entertainment en nog veel meer. Aan boord kun je genieten van een heerlijke maaltijd, het zeer servicegerichte cabine personeel en natuurlijk… Thailand zelf. Andere bestemmingen van THAI zijn o.a. Denpasar, Hanoi, Mandalay, Beijing, Kuala Lumpur, Manila, Singapore, Brisbane, Melbourne en Sydney.
Thai Airways International bestaat al meer dan 58 jaar en kent een geschiedenis met vele awards zoals 'The Best Airline of the Far East Award'. Met Thai Airways International kom je vanaf Brussel al meteen in Thaise sferen!

Thai Airways International vliegt ook met de Boeing Dreamliner
De eerste 787-8 Dreamliner vlucht van THAI betrof een vlucht op 25 juli 2014 van Bangkok naar Chiang Mai. Veel vluchten vanuit Bangkok naar bestemmingen in Zuid-Oost Azië en Australië/Nieuw Zeeland worden tegenwoordig uitgevoerd met de Dreamliner, een zeer modern en stil vliegtuig. In onze zoekmachine kun je altijd meer informatie vinden over jouw vluchten (zoals vluchtduur, vliegtuig type, transfer informatie etc).
E-tickets en online checkin
Als je bij ons hebt geboekt dan worden jouw tickets worden binnen 24 uur uitgegeven waarna je zelf je e-tickets kunt printen. Dit kan in het onderdeel "mijn reservatie". Daar vind je (na inloggen) een link naar je e-tickets.
Online inchecken voor jouw vluchten kan binnen 24 uur voor vertrek via de volgende link; klik hier.
Beste Economy Class
De economy class van THAI is door het toonaangevende Skytrax in 2018 tot de beste ter wereld beoordeeld!
Beste Catering
De THAI economy class catering kreeg van Skytrax in 2018 de award voor de "Best Economy Class Onboard Catering".
30kg bagage gratis meenemen
Naast de top kwaliteit inflight service kun je bij THAI ook nog eens 30 kg bagage gratis meenemen (naast 7 kg handbagage).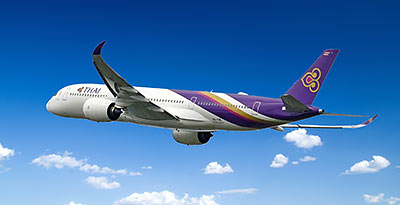 THAI highlights
Alle THAI tickets, ook binnenlands
6x per week non-stop Brussel-Bangkok
Gratis 30kg(!) bagage in economy class
Gratis 40kg bagage in business class
Premium in-flight service
NIeuwe Airbus A350: meer ruimte, comfort, rust en individueel entertainment
Online checkin en e-tickets self service
Tickets eenvoudig betalen met MrCash/Bancontact, MrCash/Bancontact, ING Homepay, Belfius, Maestro, iDeal of creditcard!