Malaysia Airlines Goedkope Vliegtickets
Boek je Malaysia Airlines vluchten veilig online aan de laagste prijs!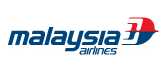 Vliegtickets van Malaysia Airlines
Onderstaande prijzen zijn zeer recent gevonden in onze zoekmachine. Malaysia Airlines heeft ook zeer aantrekkelijke businessclass deals. Alle actuele prijzen kun je eenvoudig in onze zoekmachine hierboven vinden. Bij "meer zoekopties" kun je eventueel de klasse aanpassen.
De getoonde prijzen zijn de laagste prijzen die recent door onze klanten zijn geboekt naar deze bestemming(en). De actuele prijs kan gewijzigd zijn en vind je in onze zoekmachine. Prijzen op basis van heen/terug incl taksen. Dossierkosten vanaf € 19,50 (1 pers.) en € 35 (vanaf 2 pers.). Gratis betalen met Belfius, Mastercard, Visa, Bancontact, Maestro of iDeal.
Dusseldorf - Bangkok
Datum heen: 06/04/2017
Datum terug: 21/04/2017

€

739 »
Dusseldorf - Ho Chi Minh City
Datum heen: 12/04/2017
Datum terug: 20/04/2017

€

743 »
Brussel - Kuala Lumpur
Datum heen: 06/03/2017
Datum terug: 13/03/2017

€

623 »
Malaysia Airlines

Malaysia Airlines is de nationale carrier van Maleisië. De maatschappij staat (net als veel andere Aziatische maatschappijen) bekend om haar voortreffelijke service aan boord. Zo zijn de zetels breder dan bij veel andere airlines en kun je verder achterover leunen. Ook de beenruimte in economy class is prima. Verder zijn er uitstekende gratis maaltijden aan boord, vergezeld van een lekker drankje. Als je een bepaald dieet hebt of een kindermaaltijd wilt hebben dan is dat ook geen probleem. De vloot van Malaysia Airlines is jong en modern. Kortom; voor een mooie reis naar Azië is Malaysia Airlines een prima begin!
Enkele speerpunten van Malaysia Airlines:
Jonge vloot met moderne toestellen
Zeer uitgebreid routenetwerk naar Azië en Australië/Nieuw Zeeland
Uitstekende inflight service. Maaltijden, drankjes en multimedia entertainment.
Voordelig: Hoe vroeger je boekt, des te lager de prijs
Boek snel en eenvoudig op onze website en betaal veilg met MrCash/Bancontact, iDeal, Online Banking, Creditcard of Maestro.
Online inchecken
Geniet van het gemak van online check-in. Inchecken via internet kan vanaf 48 uur tot 90 minuten voor vertrek in een paar gemakkelijke stappen:
Houd je paspoort bij de hand
Regel je check-in online
Kies je zetelnummer(s) (niet op alle routes beschikbaar)
Print je boarding pass
Online inchecken Malaysia Airlines.
Ruimbagage
Ruimbagage op Malaysia Airlines vluchten is gratis inbegrepen, in economy class mag je tot 30kg bagage gratis meenemen!
Handbagage
Je mag gratis 7kg handbagage meenemen aan boord van Malaysia Airlines vluchten. De maximale afmetingen van je handbagage: 56cm x 36cm x 23cm.
Meer informatie over de bagageregeling van Malaysia Airlines
vind je hier
.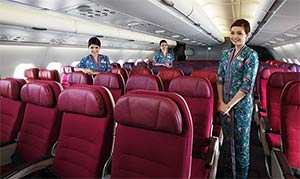 Malaysia Airlines highlights
Topkwaliteit airline uit Maleisië
Rechtstreeks Amsterdam/Parijs-Kuala Lumpur
Toffe deals naar Azië en Australië
Gratis 30kg bagage meenemen
Online checkin en e-tickets regelen vanuit huis
Tickets eenvoudig betalen met MrCash/Bancontact, MrCash/Bancontact, ING Homepay, Belfius, Maestro, iDeal of creditcard!