ITA Airways Deals – De beste promo's naar Italië
Vliegtickets ITA Airways
ITA Airways (voorheen Alitalia), scherpe deals naar oa Italië en Amerika
Brussel – Athene
Datum heen: 31/01/2024
Datum terug: 07/02/2024

€

254 »
Brussel – Bari
Datum heen: 31/01/2024
Datum terug: 07/02/2024

€

155 »
Brussel – Bologna
Datum heen: 26/11/2023
Datum terug: 03/12/2023

€

207 »
Brussel – Cagliari
Datum heen: 31/01/2024
Datum terug: 07/02/2024

€

166 »
Brussel – Catania
Datum heen: 13/01/2024
Datum terug: 20/01/2024

€

172 »
Brussel – Florence
Datum heen: 30/01/2024
Datum terug: 07/02/2024

€

162 »
Brussel – Lamezia Terme
Datum heen: 06/02/2024
Datum terug: 10/02/2024

€

172 »
Brussel – Malta
Datum heen: 28/12/2023
Datum terug: 04/01/2024

€

453 »
Brussel – Milaan
Datum heen: 31/01/2024
Datum terug: 09/02/2024

€

108 »
Brussel – Napels
Datum heen: 06/02/2024
Datum terug: 13/02/2024

€

173 »
Brussel – New York
Datum heen: 22/02/2024
Datum terug: 29/02/2024

€

458 »
Brussel – Palermo
Datum heen: 14/01/2024
Datum terug: 21/01/2024

€

175 »
Brussel – Rio de Janeiro
Datum heen: 17/03/2024
Datum terug: 01/04/2024

€

778 »
Brussel – Rome
Datum heen: 09/01/2024
Datum terug: 17/01/2024

€

117 »
Brussel – Sao Paulo
Datum heen: 12/03/2024
Datum terug: 19/03/2024

€

687 »
Brussel – Tirana
Datum heen: 03/01/2024
Datum terug: 11/01/2024

€

261 »
Brussel – Trieste
Datum heen: 03/02/2024
Datum terug: 10/02/2024

€

196 »
Brussel – Turijn
Datum heen: 31/01/2024
Datum terug: 07/02/2024

€

166 »
Brussel – Zurich
Datum heen: 01/01/2024
Datum terug: 10/01/2024

€

313 »
De getoonde prijzen zijn de laagste prijzen die recent door onze klanten zijn geboekt naar deze bestemming(en). De actuele prijs kan gewijzigd zijn en vind je in onze zoekmachine. Prijzen op basis van heen/terug incl taksen. Dossierkosten vanaf € 19,50 (1 pers.) en € 35 (vanaf 2 pers.). Gratis betalen met Belfius, Mastercard, Visa, Bancontact, Maestro of iDeal.
Informatie
ITA Airways, heel Italië binnen handbereik
Heel Italië ligt met ITA Airways werkelijk binnen handbereik : Firenze, Venetië, Turijn, Rome, Napels, Palermo, Brindisi, Bari, Reggio di Calabrië en nog veel meer bestemmingen. Vanuit Brussel vlieg je rechtstreeks op Milaan, Venetië of Rome en via uitstekende verbindingen verder door naar de rest van Italië. En dat nog eens voor bijzonder lage prijzen!. ITA vliegt je ook naar Zuid Amerika en de USA, vaak aan zeer scherpe prijzen. Zeker de moeite waard dus om ITA eens te vergelijken als je binnenkort op reis gaat.
Een jonge vloot
De ITA Groep beschikt over een jonge vloot van 140 toestellen (een van de jongste vloten van Europa met een gemiddelde leeftijd van de toestellen van slechts 6,5 jaar!). Op lange vluchten wordt gebruik gemaakt van vliegtuigen van het type Boeing B777 en Airbus A330. Aan boord zijn 3 klassen te onderscheiden; Magnifica – Business, Classica Plus – Premium Economy en Classica – Economy. Binnen Europa wordt met name met de Airbus familie gevlogen, te weten de A321, A320 en A319 toestellen. Voor regionale/domestic vluchten tenslotte heeft ITA gekozen voor de Embraer E190 en E175, kleinere toestellen van de nieuwste generatie.
Maaltijden
Op lange, internationale vluchten vanuit Italië kun je kiezen uit twee verschillende menu's.
Film en video
Geniet van persoonlijke schermen van 6,5″ (B777-vloot) en 9″ (A330-vloot) en uitgebreide mediatheek.
Draadloos internet
Blijf tijdens uw vlucht verbonden via Wifi (betaald beschikbaar op sommige long-haul vluchten).
Check-in & Bagage
Handbagage bij ITA Airways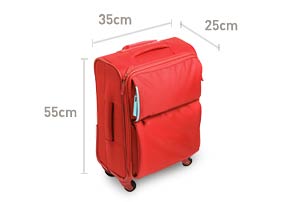 Je mag 1 stuk handbagage aan boord meenemen van maximaal 8 kg. Tevens gelden de maximale afmetingen zoals hiernaast in de afbeelding te zien (inclusief handvaten, zijzakken en wielen):
Ingecheckte bagage bij ITA
Op de laagste prijzen van ITA binnen Europa en binnen Italie (Economy Light) geldt dat alleen handbagage is inbegrepen (8kg maximaal + 1 accessoire zoals een laptop of cameratas). Ruimbagage kan worden bijgekocht via de website van ITA, doe dit altijd vooraf want als je wacht tot op de airport betaal je (flink) meer.
Meer info over bagage lees je hier
Online checkin op ITA vluchten
Vanaf 24 uur voor vertrek kun je zelf eenvoudig je checkin regelen en de bijbehorende instapkaart(en) thuis uitprinten. Tevens kun je je eigen stoelnummer vastleggen en (tegen betaling) bijvoorbeeld meer beenruimte reserveren.
Web Checkin (vanaf 24 uur voor vertrek)
"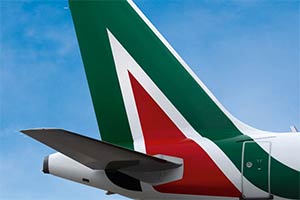 ITA highlights
Alle bestemmingen in Italië
Rechtstreeks naar Rome en Milaan
Voordelig naar Bari, Catania, Palermo en meer
Let op: voor de laagste prijzen in Europa geldt dat alleen handbagage is inbegrepen (8kg max)!
Tickets eenvoudig betalen met MrCash/Bancontact, Belfius, iDeal, Maestro of ING Homepay