CSA Czech Airlines Goedkope Vliegtickets
Boek je CSA Czech Airlines vluchten veilig online aan de laagste prijs!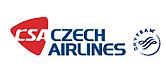 Promo CSA Czech Airlines
De getoonde prijzen zijn de laagste prijzen die recent door onze klanten zijn geboekt naar deze bestemming(en). De actuele prijs kan gewijzigd zijn en vind je in onze zoekmachine. Prijzen op basis van heen/terug incl taksen. Dossierkosten vanaf € 19,50 (1 pers.) en € 35 (vanaf 2 pers.). Gratis betalen met Belfius, Mastercard, Visa, Bancontact, Maestro of iDeal.
Info
Meer informatie over CSA Czech Airlines
Boek rechtstreeks CSA vliegtickets aan allerlaagste prijzen. Je vind bij ons alle CSA vluchten naar alle bestemmingen. Met CSA vlieg je naar veel voordelige bestemmingen in Europa. De centrale luchthaven van CSA is Praag dus als je doorvliegt zul je hier overstappen. Praag is ook een bijzonder mooie stedentrip bestemming.
Alles wat je wilt weten over CSA
Czech Airlines is de belangrijkste luchtvaartmaatschappij van Tsjechië. CSA Czech Airlines heeft luchtverbindingen tussen de hoofdstad van het land, Praag, naar de meeste Europese hoofdsteden en de belangrijkste bestemmingen in Noord Amerika. CSA voert ook vluchten uit naar het Oosten en Noord Afrika.
Czech Airlines is lid van het Skyteam. SkyTeam is een internationale alliantie van luchtvaartmaatschappijen. Vanwege de samenwerking met deze partners in de SkyTeam alliantie kan CSA je beter en voordeliger van dienst zijn op vele plaatsen op de aardbol.
Inflight service
CSA Czech Airlines heeft twee tariefssoorten te weten de Economy Class en Business Class.
De Economy Class is onderverdeeld in drie classes; Economy Premium, Economy en Value Special. Uitgebreide informatie over deze classes kun je hier lezen.
De Business Class is onderverdeeld in twee classes; Business Premium en Business. Het verschil in de twee classes heeft onder andere betrekking op de flexibiliteit van de tariefsvoorwaarden. Uitgebreide informatie over deze classes kun je hier lezen.
Aan boord
In één van de Economy classes krijg je een stoel aangewezen in de speciaal daarvoor geselecteerde deel van de cabine. Na het opstijgen, bieden wij je onze standaard verfrissingen. Met een Economie ticket kun je een tijdens het reserveringsproces (aangeven in het vakje "opmerkingen") een speciale maaltijd bestellen voor je vlucht.
Het voordeel van een Vale Special ticket is het extra lage tickettarief. De annuleringsvoorwaarden zijn echter zo strikt dat je bij annulering geen geld terug ontvangt. Ook met een Value Special ticket krijgt u een stoel in het Economy deel van het toestel toegewezen en krijgt u na het opstijgen de standaard drankjes geserveerd. Net als met een Economy Premium en een Economy ticket kun je tijdens het reserveringsproces in het vakje "opmerkingen" aangeven dat je graag een speciale maaltijd wilt bestellen.
In de Business Class krijg je zodra je aan boord van het toestel bent een welkomstdrankje aangeboden. Een brede selectie van Tsjechische en buitenlandse kranten zullen beschikbaar zijn. Na het opstijgen, bieden we je hoge kwaliteit drankjes naast een brede selectie speciale maaltijden. Op bepaalde routes ontvang je een cadeau set om je vlucht nog aangenamer te maken. Een persoonlijke video-speler zal voor je beschikbaar zijn met een selectie van acht files.
Mijlen sparen
Vlieg je regelmatig met CSA Czech Airlines of ben je van plan dit te gaan doen? Je zult merken dat wij onze vaste klanten zeer waarderen. Je bij ons sparen voor gratis vliegtickets, kortingen en andere voordelen. Wij kunnen je drie verschillende spaarprogramma's aanbieden. Het lidmaatschap is beschikbaar voor zowel individuele passagiers als voor bedrijven. We hebben zelfs een apart spaarprogramma voor kinderen!
Kom alles te weten over de CSA Frequent Flyer programma's.
Bagage
Wat mag je meenemen op CSA vluchten
Economy Class passagiers mogen maximaal 1 stuk handbagage meenemen van in totaal maximaal 8 kilogram. De afmetingen mogen maximaal zijn 55 x 45 x 25 cm. Ruimbagage kan worden meegenomen aan een extra toeslag, te boeken via de website van de airline
Business Class passagiers mogen in Europa, Azië, Amerika en het Midden Oosten 2 koffers meenemen waarvan het totale gewicht maximaal 23 kilogram mag zijn. Bij vluchten tussen Azië, het Midden Oosten en Amerika mag je 3 koffers meenemen met een totaal gewicht van maximaal 23 kilogram. Daarnaast mag je ook twee stuks handbagage meenemen die in totaal maximaal 18 kilogram mogen wegen. De afmetingen mogen maximaal 56 x 45 x 25 cm + 40 x 30 x 20 cm zijn.
Lees alles over de
toegestane bagage van CSA door hier te klikken
.
Check-in
Inchecken bij CSA vanachter je eigen PC
Je kunt bij Czech Airlines zelf je check-in regelen vanaf 24 uur voor vertrek en direct je favoriete zitplaats reserveren. De boardingpass kun je thuis uitprinten zodat je bij aankomst op de luchthaven niet naar de incheckbalie hoeft. Mocht je geen gelegenheid hebben om online in te checken dan kun je dat op de luchthaven ook nog doen bij de incheckbalie of bij de Self-Serve Kiosks.
Bekijk de diverse incheckmogelijkheden hier
.
Links
Links naar CSA producten
Sterke punten CSA Czech Airlines
Naar Praag en (Zuid) Oost Europa
Gratis 1 stuk handbagage (8 kg) inbegrepen, ruimbagage is niet gratis op Europese vluchten (value fares)
Ook naar Bangkok en Australië
Gratis drankje en hapje in economy
Overstappen in Praag
Hotels van budget tot luxe
Geen reserveringskosten!
Wagenhuur overal ter wereld
Geen reserveringskosten!
Meer veelgeboekte airlines