China Airlines Goedkope Vliegtickets
Boek je China Airlines vluchten veilig online aan de laagste prijs!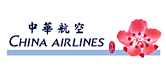 De getoonde prijzen zijn de laagste prijzen die recent door onze klanten zijn geboekt naar deze bestemming(en). De actuele prijs kan gewijzigd zijn en vind je in onze zoekmachine. Prijzen op basis van heen/terug incl taksen. Dossierkosten vanaf € 19,50 (1 pers.) en € 35 (vanaf 2 pers.). Gratis betalen met Belfius, ING Homepay, Bancontact/Mrcash, Maestro, Paypal of iDeal. Ook creditcards van Mastercard en Visa zijn meer dan welkom,
Amsterdam – Brisbane
Datum heen: 29/03/2019
Datum terug: 13/04/2019

€

1059 »
Amsterdam – Osaka
Datum heen: 22/04/2019
Datum terug: 30/04/2019

€

808 »
Amsterdam – Sydney
Datum heen: 29/05/2019
Datum terug: 13/06/2019

€

1011 »
Brussel – Taipei
Datum heen: 09/12/2018
Datum terug: 17/12/2018

€

664 »
Goedkope vliegtickets van China Airlines naar Australië en Azië
China Airlines is de nationale luchtvaartmaatschappij van Taiwan. Hoewel de naam anders doet vermoeden komt China Airlines dus niet uit China. Je kunt met China Airlines rechtstreeks vanaf Amsterdam naar Bangkok en Taipei (Taiwan) vliegen, vaak aan zeer aantrekkelijke prijzen. Andere routes van China Airlines zijn onder andere vluchten naar Sydney, Auckland, Hong Kong, Kuala Lumpur en Manilla. Doe gewoon een zoekopdracht in onze zoekmachine bovenaan de pagina, wij tonen altijd alle airlines op jouw route aan de laagste prijs.
Online checkin
Momenteel is er nog geen online checkin mogelijkheid vanuit Europa. Je checkt dus gewoon in op de luchthaven waar je je boardingpass ontvangt en de bagage kunt inchecken. Meer informatie vind je hier.
Bagageregels China Airlines
Op vluchten van China Airlines mag je, ook in economy class, per persoon maximaal 30kg bagage meenemen!
Voorwaarden kunnen wijzingen dus check altijd de
FAQ China Airlines
voor de laatste informatie.
Meer vliegtickets naar Azie:
Sterke punten China Airlines
De nationale airline van Taiwan
Voordelig naar Azië en Australië
Betalen met iDeal, Mr Cash of Creditcard
Wij vergelijken altijd alle airlines
Rechtstreeks Amsterdam-Bangkok
Hotels van budget tot luxe
Geen reserveringskosten!
Wagenhuur overal ter wereld
Geen reserveringskosten!
Meer veelgeboekte airlines