Cathay Pacific Goedkope Vliegtickets
Boek je Cathay Pacific vluchten veilig online aan de laagste prijs!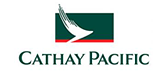 De getoonde prijzen zijn de laagste prijzen die recent door onze klanten zijn geboekt naar deze bestemming(en). De actuele prijs kan gewijzigd zijn en vind je in onze zoekmachine. Prijzen op basis van heen/terug incl taksen. Dossierkosten vanaf € 19,50 (1 pers.) en € 35 (vanaf 2 pers.). Gratis betalen met Belfius, ING Homepay, Bancontact/Mrcash, Maestro, Paypal of iDeal. Ook creditcards van Mastercard en Visa zijn meer dan welkom,
Brussel – Chengdu
Datum heen: 18/11/2018
Datum terug: 26/11/2018

€

592 »
Amsterdam – Bangkok
Datum heen: 05/12/2018
Datum terug: 13/12/2018

€

615 »
Brussel – Ho Chi Minh City
Datum heen: 24/02/2019
Datum terug: 04/03/2019

€

620 »
Brussel – Bangkok
Datum heen: 30/10/2018
Datum terug: 07/11/2018

€

621 »
Brussel – Phuket
Datum heen: 15/11/2018
Datum terug: 23/11/2018

€

622 »
Brussel – Bangkok
Datum heen: 20/11/2018
Datum terug: 28/11/2018

€

622 »
Amsterdam – Jakarta
Datum heen: 12/11/2018
Datum terug: 20/11/2018

€

633 »
Brussel – Kuala Lumpur
Datum heen: 30/09/2018
Datum terug: 10/10/2018

€

635 »
Amsterdam – Bangkok
Datum heen: 02/05/2019
Datum terug: 10/05/2019

€

640 »
Brussel – Ho Chi Minh City
Datum heen: 15/01/2019
Datum terug: 23/01/2019

€

645 »
Goedkope vliegtickets van Cathay Pacific (CX) naar Hong Kong, Azië en Australië
Cathay Pacific is de luchtvaartmaatschappij van Hong Kong. Cathay is een van de oudere airlines in de wereld, ze bestaan inmiddels al 65 jaar. Net als veel andere Aziatische airlines heeft Cathay het woord "service" hoog in haar vaandel staan. De slogan van Cathay Pacific is "People. They make an airline" waarmee Cathay maar wil aangeven dat persoonlijke service en kwaliteit centraal staan.
Het routenetwerk loopt vanuit België met een overstap in Amsterdam, Parijs of Londen non-stop naar Hong Kong. Van daaruit kun je gans het Verre Oosten bereiken met steden als Singapore, Tokyo, Osaka, Beijing, Fukuoka, Hangzhou en Nagoya. Maar ook de Pacfic met Australie en Nieuw Zeeland worden bediend. Sydney, Melbourne, Brisbane, Auckland en Wellington zijn met Cathay prima bereikbaar.
De luchtvaartmaatschappij heeft een moderne vloot bestaande uit toestellen zoals de Boeing 777, Boeing 747 en Airbus 330 en 340. Ruim 120 toestellen in totaal.
Sterke punten Cathay Pacific
De airline van Hong Kong
Gratis 20kg bagage meenemen
Gratis 7kg handbagage aan boord
Uitgebreide routes in het Verre Oosten
Overstappen in Amsterdam of Parijs
Hotels van budget tot luxe
Geen reserveringskosten!
Wagenhuur overal ter wereld
Geen reserveringskosten!
Meer veelgeboekte airlines