Air Serbia Goedkope Vliegtickets
Boek je Air Serbia vluchten veilig online aan de laagste prijs!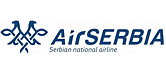 Vliegtickets van Air Serbia
De getoonde prijzen zijn de laagste prijzen die recent door onze klanten zijn geboekt naar deze bestemming(en). De actuele prijs kan gewijzigd zijn en vind je in onze zoekmachine. Prijzen op basis van heen/terug incl taksen. Dossierkosten € 19,50 (1 pers.) en € 29,50 (vanaf 2 pers.). Gratis betalen altijd mogelijk. Wij berekenen geen betaalkosten voor betaling per bank, Bancontact/Mrcash, Maestro of iDeal. Je kunt ook betalen met creditcard (€8,50 per dossier) of Paypal (€6,50 per dossier).
Brussel – Belgrado
Datum heen: 08/12/2017
Datum terug: 17/12/2017

€

202 »
Brussel – Abu Dhabi
Datum heen: 18/04/2018
Datum terug: 22/04/2018

€

465 »
Air Serbia Informatie
Air Serbia is de nationale luchtvaartmaatschappij van Servië (voorheen genaamd JAT Airways), ze heeft haar thuisbasis op de luchthaven van Belgrado. Met Air Serbia kun je vanaf Brussel en Amsterdam rechtstreeks naar Belgrado vliegen. Daarnaast voert de maatschappij binnenlandse vluchten uit naar Niš en zijn er internationale vluchten naar andere luchthavens, met name in Europa (Moskou, Athene en Istanbul bijvoorbeeld).
Vluchten worden uitgevoerd met moderne toestellen van Boeing en Embrear. De totale vloot bestaat uit 14 toestellen.
Inchecken
Bij Air Serbia kun je momenteel nog niet online inchecken.
Dit betekent dat je tijdig op de luchthaven dient te zijn om voldoende tijd te hebben voor de checkin. Je kunt je koffer(s) gewoon afgeven bij de Air Serbia checkin balie op de luchthaven. Daar ontvang je tevens je boardingpass waarmee je naar de security controle gaat en daarna naar de gate.
Bagage
Business Class: Maximaal 40 kg bagage
Economy Class: Maximaal 30 kg bagage
Handbagage
Je mag 1 tas per persoon als handbagage meenemen, maximaal 8 kg. De maximum afmeting (lengte + breedte + hoogte) mag 115cm zijn.
Vloeistoffen en gels in handbagage
Je mag vloeistoffen, gels, pasta's en spuitbussen meenemen in verpakkingen tot 100 ml (3,4 oz.) in uw handbagage. Verpakkingen groter dan 100 ml worden niet geaccepteerd zelfs wanneer deels gevuld. De verpakkingen moet worden vervoerd in een transparante, hersluitbare, kwart- of liter zak niet groter dan 20 x 20 cm (8 x 8 in.) Alle artikelen moeten gemakkelijk in de plastic zak passen. De transparante zak met vloeistoffen moet apart worden aangeleverd bij de veiligheidsscreening. Er zijn geen beperkingen voor babyvoedsel en medicijnen. Je kunt om een recept gevraagd worden voor de medicijnen die je mee aan boord wilt nemen.
* Informatie onder voorbehoud van wijzigigen,
voor de meest actuele informatie klik je hier
.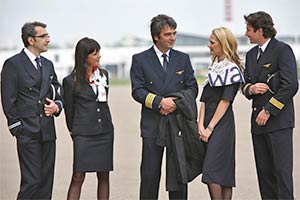 Air Serbia highlights
Gratis 30kg bagage in economy class
Rechtstreeks vluchten Brussel/Amsterdam-Belgrado
Toffe deals naar Oost Europa en Servië
Gratis snack/maaltijd/drankje aan boord
Tickets eenvoudig betalen met iDeal, MrCash/Bancontact of creditcard