Air Europa Goedkope Vliegtickets
Boek je Air Europa vluchten veilig online aan de laagste prijs!

Air Europa, de beste deals naar Zuid Amerika. Nieuw: Vlieg met de Boeing 787 Dreamliner…
Met Air Europa kun je alle belangrijke Zuid Amerikaanse steden bereiken aan lage prijzen en… met een prima verbinding via Madrid!
NIEUW: Vlieg nu super comfortabel in de nieuwste Boeing 787 Dreamliner met AirEuropa op de vluchten naar Miami en Bogota.
Populaire Air Europa bestemmingen
Goedkope vliegtickets van Air Europa naar Spanje en Zuid Amerika
Brussel – Bilbao
Datum heen: 29/08/2023
Datum terug: 05/09/2023

€

206 »
Brussel – Bogota
Datum heen: 20/09/2023
Datum terug: 04/10/2023

€

754 »
Brussel – Cancun
Datum heen: 05/11/2023
Datum terug: 12/11/2023

€

905 »
Brussel – Caracas
Datum heen: 28/09/2023
Datum terug: 13/10/2023

€

953 »
Brussel – Gran Canaria
Datum heen: 22/11/2023
Datum terug: 30/11/2023

€

270 »
Brussel – Lima
Datum heen: 05/11/2023
Datum terug: 25/11/2023

€

849 »
Amsterdam – Lissabon
Datum heen: 15/11/2023
Datum terug: 22/11/2023

€

220 »
Brussel – Madrid
Datum heen: 22/11/2023
Datum terug: 30/11/2023

€

167 »
Brussel – Mallorca
Datum heen: 03/01/2024
Datum terug: 10/01/2024

€

342 »
Brussel – Miami
Datum heen: 05/09/2023
Datum terug: 12/09/2023

€

635 »
Brussel – Salvador
Datum heen: 18/10/2023
Datum terug: 25/10/2023

€

814 »
Brussel – Santo Domingo
Datum heen: 05/11/2023
Datum terug: 19/11/2023

€

713 »
Brussel – Tenerife
Datum heen: 24/10/2023
Datum terug: 31/10/2023

€

458 »
Brussel – Valencia
Datum heen: 29/08/2023
Datum terug: 05/09/2023

€

216 »
De getoonde prijzen zijn de laagste prijzen die recent door onze klanten zijn geboekt naar deze bestemming(en). De actuele prijs kan gewijzigd zijn en vind je in onze zoekmachine. Prijzen op basis van heen/terug incl taksen. Dossierkosten vanaf € 19,50 (1 pers.) en € 35 (vanaf 2 pers.). Gratis betalen met Belfius, Mastercard, Visa, Bancontact, Maestro of iDeal.
Air Europa, jouw luchtvaartmaatschappij voor Latijns-Amerikaanse bestemmingen
Air Europa is een Spaanse lijndienstmaatschappij en behoort tot de Globalia groep, opgericht in 1986. Air Europa is gespecialiseerd in vluchten naar Spaanse, Caribische en Latijns-Amerikaanse bestemmingen. Het bedrijf biedt 2 dagelijkse vluchten vanuit Brussel, Amsterdam, Londen, Frankfurt, München en Parijs (5 per dag) naar Madrid met uitstekende verbindingen naar haar Spaanse en Latijns-Amerikaanse netwerk. Vanaf de luchthaven Madrid Barajas vliegt Air Europa naar Miami, Sao Paolo, Buenos Aires, Lima, Santiago de Chile, Montevideo, Caracas en vele andere bestemmingen.
Lid van Skyteam
Air Europa is lid van de Sky Team Alliantie en maakt gebruik van het Flying Blue programma, dat passagiers in staat stelt om mijlen te sparen en te profiteren van de vele voordelen due het programma biedt.
Aan boord
Alle reguliere vluchten worden uitgevoerd in Bi-class configuratie, economy class en Club business. De business class passagiers kunnen genieten van een heerlijk mediterraan menu, kijken naar één van de nieuwste films of ontspannen in een ergonomische stoel terwijl ze luisteren naar Caribische ritmes of klassieke muziek.
Topkwaliteit
Air Europa is een van de meest punctuele luchtvaartmaatschappijen van Europa. 90% van haar vluchten arriveert op tijd! De luchthaven Brussel Zaventem heeft Air Europa bekroond met de prijs van de meest stipte korte afstandsvluchten luchtvaartmaatschappij van 2013.
Inchecken
Bij Air Europa kun je zelf online inchecken vanaf 48 uur tot aan 1 uur voor vertrek van je vlucht. Je kunt dus gewoon thuis je boardingpass uitprinten. Als je alleen handbagage hebt kun je direct naar de security. Heb je ook koffers/ruimbagage dan dien je die gewoon op de luchthaven in te checken.
Klik hier voor online checkin op Air Europa (nieuw venster)
Bagage
Je mag 1 tas per persoon als handbagage meenemen, maximaal 10 kg (14kg in business class). De maximum afmeting: 55 x 35 x 25 cm. Op de laagste economy class tarieven is alleen handbagage gratis inbegrepen. Ruimbagage kan worden meegenomen aan een extra bedrag (bij te boeken via de website van Air Europa). Business Class: Maximaal 2 koffers van 23kg elk kun je gratis meenemen.
Vloeistoffen en gels in handbagage:
Je mag vloeistoffen, gels, pasta's en spuitbussen meenemen in verpakkingen tot 100 ml (3,4 oz.) in de handbagage. Verpakkingen groter dan 100 ml worden niet geaccepteerd zelfs wanneer deels gevuld. De verpakkingen moet worden vervoerd in een transparante, hersluitbare, kwart- of liter zak niet groter dan 20 x 20 cm (8 x 8 in.) Alle artikelen moeten gemakkelijk in de plastic zak passen. De transparante zak met vloeistoffen moet apart worden aangeleverd bij de veiligheidsscreening. Er zijn geen beperkingen voor babyvoedsel en medicijnen. Je kunt om een recept gevraagd worden voor de medicijnen die je mee aan boord wilt nemen.
* Informatie onder voorbehoud van wijzigingen,
voor de meest actuele informatie klik je hier
.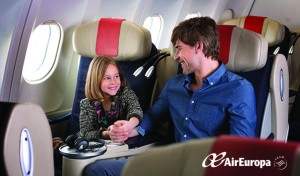 Air Europa highlights
Rechtstreeks vluchten Brussel/Amsterdam-Madrid
Toffe deals naar Zuid Amerika
Gratis snack/maaltijd/drankje aan boord
Tickets eenvoudig betalen met iDeal, MrCash/Bancontact, online banking, PayPal of creditcard