Air Austral - Goedkope Vliegtickets
Boek hier alle Air Austral vluchten aan de laagste prijs!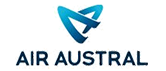 Air Austral naar schitterende bestemmingen in Afrika en de Indische Oceaan
Air Austral Deals
Goedkope vliegtickets van Air Austral, gevonden in onze zoekmachine
Onderstaande Air Austral vluchten zijn gevonden en geboekt in onze zoekmachine. De prijzen vanaf Brussel Midi zijn inclusief TGV verbinding naar Parijs. Vandaar vlieg je rechtstreeks naar La Réunion. Met onze zoekmachine bovenaan de pagina vinden wij alle promo's en vliegtickets voor jou. De machine geeft je altijd de laagste actuele prijs en vindt vluchten aan onklopbare prijzen!
Vanaf Brussel:
Brussel (Midi) – Antananarivo
Heen: 04/09/2022
Terug: 11/09/2022

€

974 »
Brussel (Midi) – Dzaoudzi
Heen: 05/09/2022
Terug: 13/09/2022

€

983 »
Brussel (Midi) – La Reunion
Heen: 16/11/2022
Terug: 24/11/2022

€

934 »
Brussel (Midi) – Mauritius
Heen: 06/09/2022
Terug: 13/09/2022

€

811 »
Brussel (Midi) – Nossi-be
Heen: 27/01/2023
Terug: 11/02/2023

€

1078 »
Vanaf Parijs:
Parijs, de Gaulle – Antananarivo
Heen: 13/03/2023
Terug: 28/03/2023

€

874 »
Parijs, de Gaulle – Dzaoudzi
Heen: 21/11/2022
Terug: 30/11/2022

€

829 »
Parijs, de Gaulle – La Reunion
Heen: 12/11/2022
Terug: 20/11/2022

€

764 »
Parijs, de Gaulle – Mauritius
Heen: 12/11/2022
Terug: 20/11/2022

€

741 »
Parijs, de Gaulle – Nossi-be
Heen: 28/12/2022
Terug: 12/01/2023

€

1008 »
De getoonde prijzen zijn de laagste prijzen die recent door onze klanten zijn geboekt naar deze bestemming(en). De actuele prijs kan gewijzigd zijn en vind je in onze zoekmachine. Prijzen op basis van heen/terug incl taksen. Dossierkosten vanaf € 19,50 (1 pers.) en € 35 (vanaf 2 pers.). Gratis betalen met Belfius, ING Homepay, Bancontact/Mrcash, Maestro, Paypal of iDeal. Ook creditcards van Mastercard en Visa zijn meer dan welkom,
Informatie

Droombestemmingen van Air Austral
Ruimbagage is gratis tot 25kg (Economy/Loisirs class). Tevens mag je 10 kg handbagage meenemen zonder kosten
Air Austral vliegt naar droombestemmingen zoals Mauritius, Madagascar, de Comoren, Isle de la Réunion en meer…
Perfecte uitgebreide service aan boord; maaltijden en drankjes en individuele (23cm) schermen in iedere stoel
Veel beenruimte, ook in economy class (83cm) en rugleuning kan tot 115 graden worden versteld
Zetel nummers kunnen vooraf online worden geboekt via de website van Air Austral
Vanaf Brussel Midi per TGV naar Parijs, vlieg vervolgens naar Reunion
Betaal Air Austral vliegtickets met iDeal, Maestro, Online Banking, MrCash/Bancontact, Paypal of creditcard
Over Air Austral
Air Austral is een luchtvaartmaatschappij gevestigd in St Denis, La Réunion (onderdeel van de Franse overzeese gebieden). Air Austral vliegt naar de luchthaven Roland Garros Airport, St Denis La Réunion.
Geschiedenis
Air Austral werd in 1974 opgericht te Saint Denis op het eiland La Réunion in de Indische Oceaan, onder de naam Réunion Air Service. Aanvankelijk zou ze uitsluitend regionale vluchten verzorgen in de Indische Oceaan. In 1990 kreeg ze dan haar huidige naam en breidde haar netwerk uit. Sedert 2003 biedt Air Austral ook lange-afstandsvluchten aan.

Bestemmingen
Via een vlotte TGV connectie vanuit Brussel Zuid naar Parijs CDG verbindt Air Austral Parijs CDG luchthaven met La Réuion. Na een vlucht van +/- 11h30 minimaal 1x per dag arriveert u op Isle de la Réunion, vandaar kan u als reiziger ook kiezen om de omliggende (ei)landen te bezoeken zoals Mauritius , Seychelles , Madagaskar evenals Tanzania en, Zuid Afrika. De Vanilla Airpass is hiervoor de beste en goedkoopste manier. U kunt ook een ticket boeken vanaf Brussel Midi direct naar uw eindbestemming (met alleen een overstap op La Reunion), hiervoor gelden bijzonder gunstige prijzen.

Aan boord
Voor u maximaal comfort kan u kiezen uit 3 klasses aan boord ; economy , premium economy en business.
Check-in
Geniet van het gemak van online check-in, vanaf 24 uur tot 1 uur voor vertrek.
Inchecken via internet kan in een paar gemakkelijke stappen:
Houd je paspoort en boekingsreferentie bij de hand, de referentie is op je e-ticket te vinden
Regel je check-in online bij Air Austral
Doorloop alle stappen
Print je boarding pass
Handbagage
Je mag maximaal één stuk handbagage per passagier meenemen aan boord op Air Austral vluchten (dit geldt niet voor baby's waarvoor geen bagage is toegelaten). Het maximale gewicht bedraagt 10 kilo, de maximale afmetingen zijn 55 cm x 45 cm x 20 cm (alle andere zaken zoals een handtas, aktetas, laptop, winkelaankopen, camera's etcetc moeten worden vervoerd binnen de toegestane één stuk handbagage).
Ruimbagage
Het meenemen van ruimbagage bij Air Austral is tot 25kg in economy class gratis. Je ziet dit tevens tijdens het boeken in onze boekingsmachine.
Vloeistoffen en gels in handbagage
Je mag vloeistoffen, gels, pasta's en spuitbussen meenemen in verpakkingen tot 100 ml (3,4 oz.) in uw handbagage. Verpakkingen groter dan 100 ml worden niet geaccepteerd zelfs wanneer deels gevuld. De verpakkingen moeten worden vervoerd in een transparante, hersluitbare, kwart- of liter zak niet groter dan 20 x 20 cm (8 x 8 in.) Alle artikelen moeten gemakkelijk in de plastic zak passen. De transparante zak met vloeistoffen moet apart worden aangeleverd bij de veiligheidsscreening. Er zijn geen beperkingen voor babyvoedsel en medicijnen. Je kunt om een recept gevraagd worden voor de medicijnen die je mee aan boord wilt nemen.
* Alle informatie onder voorbehoud van wijzigigen,
voor de meest actuele informatie klik je hier
.