Air Arabia - Goedkope Vliegtickets
Boek hier alle Air Arabia vluchten aan de laagste prijs!
Boek betrouwbaar
en betaal veilig:

Vliegtickets van Air Arabia
De getoonde prijzen zijn de laagste prijzen die recent door onze klanten zijn geboekt naar deze bestemming(en). De actuele prijs kan gewijzigd zijn en vind je in onze zoekmachine. Prijzen op basis van heen/terug incl taksen. Dossierkosten vanaf € 19,50 (1 pers.) en € 35 (vanaf 2 pers.). Gratis betalen met Belfius, ING Homepay, Bancontact/Mrcash, Maestro, Paypal of iDeal. Ook creditcards van Mastercard en Visa zijn meer dan welkom,
Om de laagste prijzen voor Air Arabia te vinden kun je nu bovenaan deze pagina een zoekopdracht doen.
Onze zoekmachine vindt altijd de laagste prijs van elke airline op jouw route. Voor lowcost airlines kijken wij tevens naar alternatieve routes (voor vertrek vanaf Brussel kijken we bijvoorbeeld ook automatisch naar de prijzen vanaf Eindhoven, Dusseldorf Weeze, Luik, Oostende en Rotterdam).
Goedkope vliegtickets van Air Arabia naar Marokko en het Midden Oosten
Met Air Arabia vlieg je supervoordelig naar Marokko. Air Arabia is de eerste echte prijsvechter van Marokko. Vanuit Brussel kun je rechtstreeks vliegen naar Casablanca, Nador en Tanger. Vanaf Amsterdam vliegt Air Arabia je snel en voordelig rechtstreeks naar Nador en Tanger. Overigens is Air Arabia veel meer dan Marokko. Zo wordt er gevlogen naar alle belangrijke luchthavens in het Midden Oosten en Noord Afrika. Ook zijn er tientallen verbindingen met steden in Azië. In totaal beschikt Air Arabia over een routenetwerk met meer dan 65 bestemmingen en een vloot van 27 Airbus 320 toestellen. Er zijn nog 44 extra Airbus 320's in bestelling overigens… Met recht de grootste lowcost airline van het Midden Oosten dus.
Let er wel op dat de bagage op de meeste "lowfares vluchten" naar Marokko niet gratis is, je betaalt bij Air Arabia op de airport voor eventuele bagage die je meeneemt. Het is voordeliger om je bagage al vooraf bij te boeken, via het callcenter van Air Arabia, op de luchthaven betaal je ongeveer het dubbele.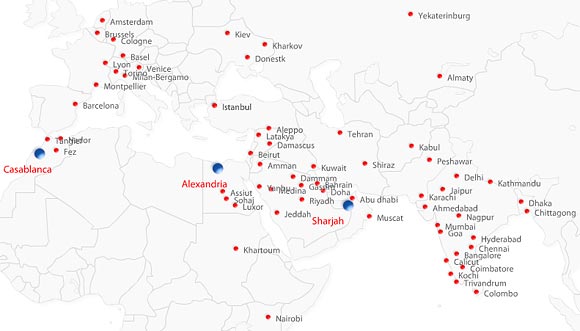 Online checkin Air Arabia
Air Arabia biedt momenteel vanuit België en Nederland GEEN online checkin mogelijkheden aan. Je kunt dus met je reserveringsnummer en paspoort gewoon naar de airport, daar ontvang je bij de balie van Air Arabia je boardingpass. De incheckbalies van Air Arabia sluiten 1 uur voor vertrek, we raden je aan minimaal 2 uur voor vertrek op de luchthaven te zijn. Meer informatie in vind je in de FAQ.
Bagagevoorwaarden:
U mag per persoon maximaal 1 stuk handbagage meenemen in de cabine meenemen. De afmetingen van deze handbagage mogen maximaal 55 cm x 40 cm x 20 cm bedragen inclusief het handvat, zakken en eventuele wielen. Vloeistoffen zijn beperkt tot 100 ml per vloeistof en dienen verpakt te zitten in separate verpakkingen.
Air Arabia heeft géén vrijstelling voor ruimbagage.
Indien u ruimbagage wilt meenemen dien je hiervoor te betalen.
Dit kan op de luchthaven op het moment dat je gaat inchecken (duurder!) of vooraf via het callcenter van Air Arabia (telefoonnummer in België 0900-40072, in Nederland 0900-2472722)
Bagagekosten via Air Arabia callcenter (voordeliger dan op de luchthaven):
Voor vluchten tussen 15 juni en 15 september:
20 Kg: MAD 180 / per passagier / per enkele reis
25 Kg: MAD 510 / per passagier / per enkele reis
30 Kg: MAD 840 / per passagier / per enkele reis
Voor vluchten tussen 16 september en 14 juni:
20 Kg: MAD 140 / per passagier / per enkele reis
25 Kg: MAD 440 / per passagier / per enkele reis
30 Kg: MAD 770 / per passagier / per enkele reis
Indien je op de luchthaven betaalt zijn de kosten flink hoger!
Voorwaarden en kosten kunnen voortdurend wijzingen dus check altijd
de FAQ van Air Arabia
voor de laatste informatie.

Air Arabia highlights
De lowcost airline voor goedkope vluchten naar Marokko
Rechtstreeks vluchten Brussel/Amsterdam naar Nador, Casablanca en Tanger
Stoelen met goede beenruimte
Handbagage gratis inbegrepen, ruimbagage tegen bijbetaling
Wij vergelijken ook de vliegtickets van oa Ryanair, Royal Air Maroc, TUI fly en Brussels Airlines!
Tickets eenvoudig betalen met iDeal, MrCash/Bancontact of creditcard
Meer vliegtickets naar Marokko: