Op zoek naar een goedkoop vliegticket naar Tlemcen (TLM) in Algerije?
Tlemcen is een stad in het noordwesten van Algerije, vlakbij de grens met Marokko en in de buurt van de zee. De streek is bekend vanwege zijn olijfplantages en wijngaarden. TUI fly heeft een regelmatige lowcost verbinding, van april-oktober op woensdag en daarna op donderdagen, vanaf Brussel Charleroi naar Tlemcen. De stad is een alternatief voor het vliegen naar oa Oujda in Marokko maar controleer wel de benodigde reisdocumenten in dat geval, ook voor voor Algerije! Tlemcen heeft een bijzondere kabelbaan die het centrum verbindt met het hoger gelegen Lalla Setti plateau.
Vliegtickets naar Tlemcen in Algerije
Boek hier je goedkope vluchten van alle airlines die naar Tlemcen (TLM) in Algerije vliegen. Als je een zoekopdracht doet bij ons dan vergelijken wij automatisch de goedkoopste vluchten van alle luchtvaartmaatschappijen op jouw route, zowel lijnvluchten als lowcost airlines (prijsvechters). Voor lowcost airlines zoeken wij tevens naar luchthavens in de buurt van jouw bestemming voor eventueel extra voordeel!
Wij verkopen vliegtickets vanaf- en naar alle luchthavens wereldwijd. Niet alleen vanaf Brussel (Charleroi of Zaventem) maar ook bijvoorbeeld van Amsterdam, Eindhoven, Maastricht, Antwerpen, Luik, Oostende, Parijs, Düsseldorf etc etc. Alle vliegtickets naar Tlemcen aan de allerlaagste prijs boek je op Goedkopevliegtuigtickets.be.
Goedkopevliegtuigtickets.be: De beste vliegticket prijzen naar Tlemcen, alle airlines, geen onverwachte toeslagen en lage dossierkosten. Betalen zonder toeslag met Belfius, Mastercard, Visa, Bancontact, Maestro of iDeal.
De kabelbaan van Tlemcen verbindt het centrum naar het Lalla Setti plateau op 800 meter hoogte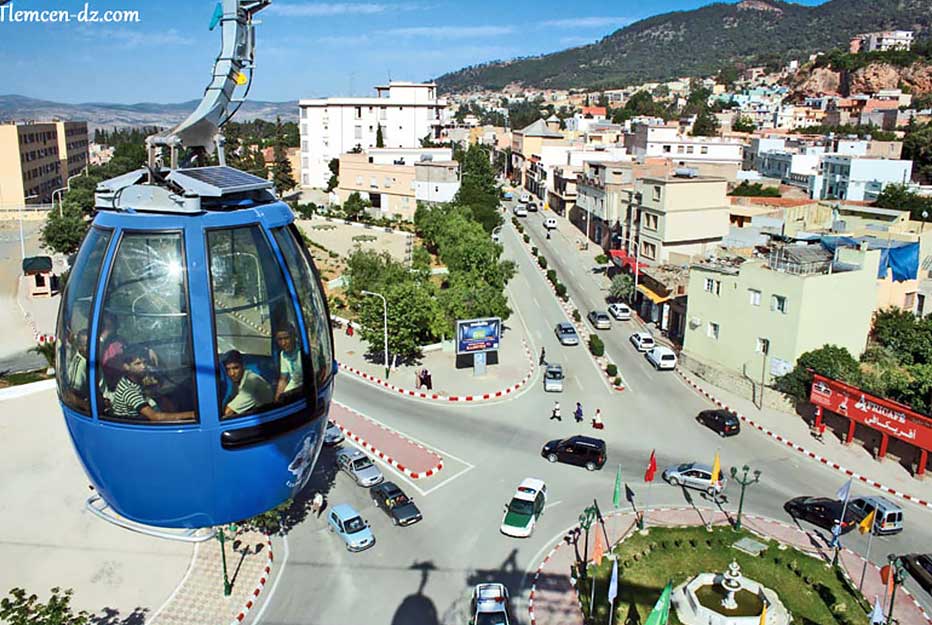 Foto: Buro voor toerisme, Tlemcen.
Kaart van Tlemcen en noordoost Algerije en Marokko