Op zoek naar een goedkoop vliegticket naar Kolkata (Calcutta) (CCU) in India?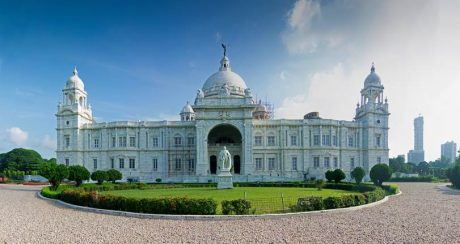 Calcutta (de officiële naam van de stad is Kolkata) is een grote stad in West-Bengalen (grenzend aan Bangladesh) in india, met ruim 4,5 miljoen inwoners. Calcutta is lang de hoofdtad geweest van de Britse kolonie India, daarom tref je er ook vandaag de dag nog veel Westerse architectuur. De stad is gelegen aan de Gangesdelta. Calcutta was de eerste stad in India die over een metrolijn beschikte, de lijn is 22 kilometer lang. Je vindt in Calcutta ook het oudste museum van Azie; het Indian Museum. Een andere bezienswaardigheid is het Maidan Park, met sportclubs, veel groen, rust (uniek in deze stad) en prima wandelmogelijkheden. New Market Kolkata is een kleurrijke, drukke en grote markt, alsof je in een film loopt. Je vindt tevens veels Britse gebouwen in de stad zoals bijvoorbeeld het Victoria Memorial.
Vliegtickets naar Kolkata (Calcutta) in India
Boek hier je goedkope vluchten van alle airlines die naar Kolkata (Calcutta) (CCU) in India vliegen. Als je een zoekopdracht doet bij ons dan vergelijken wij automatisch de goedkoopste vluchten van alle luchtvaartmaatschappijen op jouw route, zowel lijnvluchten als lowcost airlines (prijsvechters). Voor lowcost airlines zoeken wij tevens naar luchthavens in de buurt van jouw bestemming voor eventueel extra voordeel!
Wij verkopen vliegtickets vanaf- en naar alle luchthavens wereldwijd. Niet alleen vanaf Brussel (Charleroi of Zaventem) maar ook bijvoorbeeld van Amsterdam, Eindhoven, Maastricht, Antwerpen, Luik, Oostende, Parijs, Düsseldorf etc etc. Alle vliegtickets naar Kolkata (Calcutta) aan de allerlaagste prijs boek je op Goedkopevliegtuigtickets.be.
Goedkopevliegtuigtickets.be: De beste vliegticket prijzen naar Kolkata (Calcutta), alle airlines, geen onverwachte toeslagen en lage dossierkosten. Betalen zonder toeslag met Belfius, Mastercard, Visa, Bancontact, Maestro of iDeal.
Brussel - Kolkata
Datum heen: 22/01/2024
Datum terug: 30/01/2024

€

657 »
Amsterdam - Kolkata
Datum heen: 01/05/2024
Datum terug: 16/05/2024

€

836 »
Amsterdam - Kolkata
Datum heen: 22/01/2024
Datum terug: 30/01/2024

€

873 »
Brussel - Kolkata
Datum heen: 20/06/2024
Datum terug: 05/07/2024

€

888 »
Brussel - Kolkata
Datum heen: 01/05/2024
Datum terug: 16/05/2024

€

888 »
Brussel - Kolkata
Datum heen: 22/01/2024
Datum terug: 30/01/2024

€

911 »
Brussel - Kolkata
Datum heen: 01/05/2024
Datum terug: 16/05/2024

€

918 »
Brussel - Kolkata
Datum heen: 20/06/2024
Datum terug: 05/07/2024

€

920 »
Brussel - Kolkata
Datum heen: 20/06/2024
Datum terug: 05/07/2024

€

924 »
Brussel - Kolkata
Datum heen: 20/06/2024
Datum terug: 05/07/2024

€

924 »
Brussel - Kolkata
Datum heen: 20/06/2024
Datum terug: 05/07/2024

€

927 »
Amsterdam - Kolkata
Datum heen: 01/05/2024
Datum terug: 16/05/2024

€

941 »
Amsterdam - Kolkata
Datum heen: 01/05/2024
Datum terug: 16/05/2024

€

942 »
Brussel - Kolkata
Datum heen: 12/02/2024
Datum terug: 20/02/2024

€

954 »
Amsterdam - Kolkata
Datum heen: 12/02/2024
Datum terug: 20/02/2024

€

956 »
Kaart van Kolkata (Calcutta) in India