Goedkope vliegtickets naar Kavala
Op zoek naar een goedkoop vliegticket naar Kavala (KVA) in Griekenland?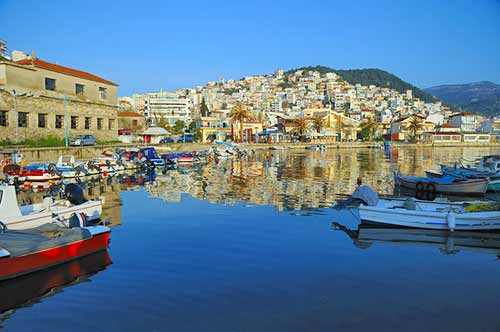 Kavala is de naam van het departement in het oosten van het district Macedonië in Griekenland. De hoofdstad is de stad Kavala, gelegen op een heuvel en aan de voet van de berg Simvolo. Het gebied rondom Kavala is bergachtig. Rondom Kavala vind je geweldige stranden, we noemen er een paar: Allereerst de stranden direct bij de stad Kavala zelf natuurlijk. Bij de meeste stranden, ook in de directe omtrek van Kavala, wappert de Blauwe Vlag. Kalamitsa ligt op 3 km van het centrum van Kavala en is perfect om vanuit de stad even te gaan zwemmen of gewoon lekker te eten in een van de vistavernes. Ook Batis ligt vlakbij de stad en is eenvoudig te bereiken. Een andere aanrader is het Toska-strand, op een kilomter of 5 van de stad, met azuurblauw helder en rustig water en een restaurant. Palio is een sfeervol resort met de combinatie bergen, strand, rust en schoon water. Iets verder weg (15 kilomter) is Nea Iraklitsa een aanrader. Het strand en gebied staat bekend om haar natuurlijke schoonheid. Het heeft een groene omgeving, een haventje een een restaurantje. Ook Nea Peramos, op 20 kilometer, is een bezoek meer dan waard. Van april tot september kun je iedere vrijdag vanaf Brussel naar Kavala vliegen met Tui Fly.
Vliegtickets naar Kavala in Griekenland
Boek hier je goedkope vluchten van alle airlines die naar Kavala (KVA) in Griekenland vliegen. Als je een zoekopdracht doet bij ons dan vergelijken wij automatisch de goedkoopste vluchten van alle luchtvaartmaatschappijen op jouw route, zowel lijnvluchten als lowcost airlines (prijsvechters). Voor lowcost airlines zoeken wij tevens naar luchthavens in de buurt van jouw bestemming voor eventueel extra voordeel!
Wij verkopen vliegtickets vanaf- en naar alle luchthavens wereldwijd. Niet alleen vanaf Brussel (Charleroi of Zaventem) maar ook bijvoorbeeld van Amsterdam, Eindhoven, Maastricht, Antwerpen, Luik, Oostende, Parijs, Düsseldorf etc etc. Alle vliegtickets naar Kavala aan de allerlaagste prijs boek je op Goedkopevliegtuigtickets.be.
Goedkopevliegtuigtickets.be: De beste vliegticket prijzen naar Kavala, alle airlines, geen onverwachte toeslagen en lage dossierkosten. Betalen zonder toeslag met Belfius, Mastercard, Visa, Bancontact, Maestro of iDeal.
Kaart van Kavala in Griekenland