Vliegtickets naar Innsbruck
Eindhoven - Innsbruck
Datum heen: 24/03/2024
Datum terug: 31/03/2024

€

122 »
Eindhoven - Innsbruck
Datum heen: 20/02/2024
Datum terug: 27/02/2024

€

125 »
Eindhoven - Innsbruck
Datum heen: 17/12/2023
Datum terug: 27/12/2023

€

130 »
Eindhoven - Innsbruck
Datum heen: 02/01/2024
Datum terug: 09/01/2024

€

161 »
Eindhoven - Innsbruck
Datum heen: 21/12/2023
Datum terug: 28/12/2023

€

164 »
Op zoek naar een goedkoop vliegticket naar Innsbruck (INN) in Oostenrijk?
Innsbruck is meer dan 800 jaar oud en ligt in het zuidwesten van Oostenrijk. Het is rechtstreeks per vliegtuig te bereiken met Transavia vanuit Amsterdam, Rotterdam en Eindhoven. Innsbruck is de hoofdstad van de deelstaat Tirol. De stad is een goed uitgangspunt voor een heerlijke wintersportbestemming, aan de rand van de Alpen, maar ook heel aantrekkelijk voor een 'groene' zomervakantie.
Vliegtickets naar Innsbruck in Oostenrijk
Boek hier je goedkope vluchten van alle airlines die naar Innsbruck (INN) in Oostenrijk vliegen. Als je een zoekopdracht doet bij ons dan vergelijken wij automatisch de goedkoopste vluchten van alle luchtvaartmaatschappijen op jouw route, zowel lijnvluchten als lowcost airlines (prijsvechters). Voor lowcost airlines zoeken wij tevens naar luchthavens in de buurt van jouw bestemming voor eventueel extra voordeel!
Wij verkopen vliegtickets vanaf- en naar alle luchthavens wereldwijd. Niet alleen vanaf Brussel (Charleroi of Zaventem) maar ook bijvoorbeeld van Amsterdam, Eindhoven, Maastricht, Antwerpen, Luik, Oostende, Parijs, Düsseldorf etc etc. Alle vliegtickets naar Innsbruck aan de allerlaagste prijs boek je op Goedkopevliegtuigtickets.be.
Goedkopevliegtuigtickets.be: De beste vliegticket prijzen naar Innsbruck, alle airlines, geen onverwachte toeslagen en lage dossierkosten. Betalen zonder toeslag met Belfius, Mastercard, Visa, Bancontact, Maestro of iDeal.
Zicht op Innsbruck aan de rand van de Alpen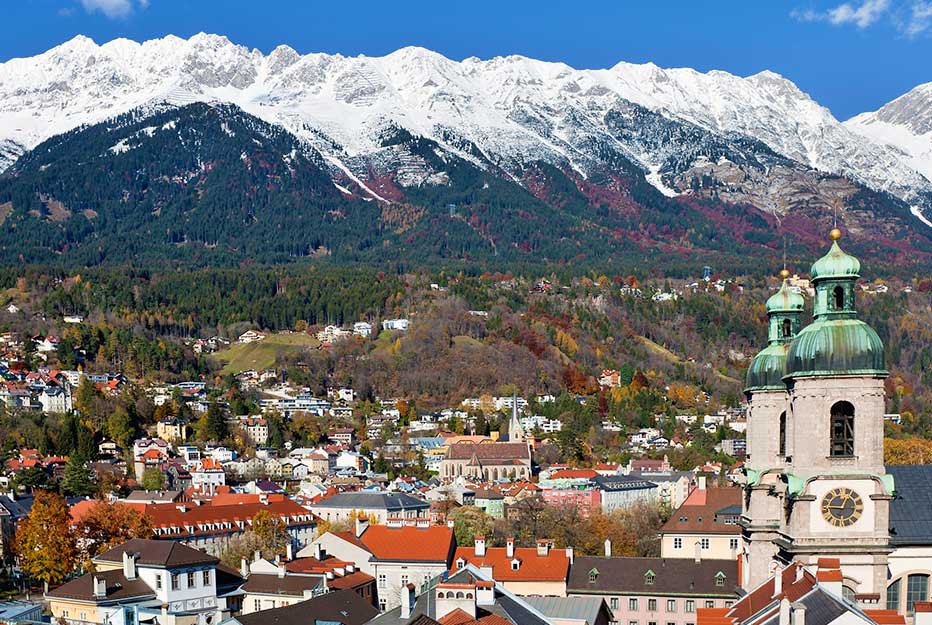 Kaart van Innsbruck en Tirol