Op zoek naar een goedkoop vliegticket naar Frankfurt (FRA) in Duitsland?
Frankfurt is een metropool vol tegenstellingen. In de wijk Westend weerspiegelt zich dit beter dan in andere wijken van de stad. Dertig jaar geleden werd dit exclusieve gebied omgedoopt tot 'Wild Westend' omdat zowel projectontwikkelaars als politie veldslagen leverden met studenten en krakers. Het karakter van de wijk is door de jaren heen langzaam veranderd. Vandaag de dag staan moderne zakelijke gebouwen met 19de eeuwse herenhuizen en villa's gemoedelijk naast elkaar. Römerberg is Frankfurt 's belangrijkste bezienswaardigheid. Dit is al sinds de 9e eeuw een rechtbank en hier werden de eerste internationale vakbeurzen gehouden.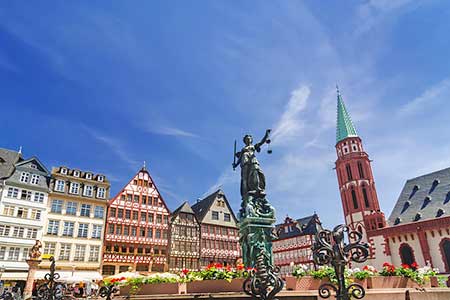 Het monumentale IG Farben Haus, in 1945 het hoofdkwartier van Generaal Eisenhouwer, ligt net vóór een rij van smalle herenhuizen gebouwd in 1880. Een van deze huizen was vroeger het huis van schilder Wilhelm Steinhausen en doet nu dienst als een privé museum. Deze gebouwen staan in de schaduw van het Hochhaus am Park, een van de vele wolkenkrabbers die nu het stadsbeeld van Frankfurt domineren. Diegenen die op zoek zijn naar een beetje rust kunnen terecht in het Grüneburg Park en de Palm Garden die net achter de hoogbouw te vinden zijn. Ook 'zakelijk Frankfurt' is in de zomer tijdens de lunch veelal in dit park te vinden.

Hoogtepunten in de zogeheten Componisten Wijk zijn het Struwel Peter Museum en een prachtig oud pand in de Lindenstraße, dat vroeger een ontmoetingsplaats was voor ongehuwde dochters van de aristocratie en tevens werd gebruikt als hoofdkwartier van de Gestapo tijdens de 2e Wereldoorlog. De Pferdestall is een prachtig gebouw opgetrokken in 1880, een prachtig uitzichtpunt met zicht over het financiële district van de stad, de Bankenviertel. Vanaf de Eiserner Steg brug die over de rivier de Main ligt, kan men de skyline van Frankfurt bewonderen. De wolkenkrabbers doen zo aan New York denken dat de lokale bevolking ironisch verwijst naar hun stad als Mainhattan! Aan de andere kant van de rivier zijn musea van wereldklasse te vinden zoals het Städel Museum en National Film Museum.
Vliegtickets naar Frankfurt in Duitsland
Boek hier je goedkope vluchten van alle airlines die naar Frankfurt (FRA) in Duitsland vliegen. Als je een zoekopdracht doet bij ons dan vergelijken wij automatisch de goedkoopste vluchten van alle luchtvaartmaatschappijen op jouw route, zowel lijnvluchten als lowcost airlines (prijsvechters). Voor lowcost airlines zoeken wij tevens naar luchthavens in de buurt van jouw bestemming voor eventueel extra voordeel!
Wij verkopen vliegtickets vanaf- en naar alle luchthavens wereldwijd. Niet alleen vanaf Brussel (Charleroi of Zaventem) maar ook bijvoorbeeld van Amsterdam, Eindhoven, Maastricht, Antwerpen, Luik, Oostende, Parijs, Düsseldorf etc etc. Alle vliegtickets naar Frankfurt aan de allerlaagste prijs boek je op Goedkopevliegtuigtickets.be.
Goedkopevliegtuigtickets.be: De beste vliegticket prijzen naar Frankfurt, alle airlines, geen onverwachte toeslagen en lage dossierkosten. Betalen zonder toeslag met Belfius, Mastercard, Visa, Bancontact, Maestro of iDeal.
Kaart van Frankfurt in Duitsland