Vliegtickets naar Brač (Bol) boeken (vanaf €122)
Vlucht Brač (Bol) va €122
Boek je goedkope vliegtickets naar Brač (Bol) aan de laagste totaalprijs.
Wij tonen automatisch de beste vluchten, zonder lange wachttijden of onnodig overstappen.
Brač (Bol)
Vanaf prijs heen/terug
Inclusief taksen
Goedkope vliegtickets naar Brač (luchthaven Bol) in Kroatië
Op zoek naar een goedkoop vliegticket naar Brač (DBV) in Kroatië?
Het eiland Brač in Kroatie staat garant voor veel strand, zee en zon. En met TUIfly kun je er in de zomermaanden (mei - september) op zaterdag rechtstreeks heen vliegen vanaf Brussel. Het is het op twee na grootste eiland in de Adriatische zee, zo'n 39 x 12 kilometer. De kustlijn heeft een lengte van ongeveer 170 km en bestaat uit kleine strandjes, inhammen zand en kiezels. Een bekend strand in het zuiden van het eiland is Zlatni rat (fijne kiezels) bij Bol, hier in de buurt ligt ook de luchthaven.
Vliegtickets naar Brač in Kroatië
Boek hier je goedkope vluchten van alle airlines die naar Brač (DBV) in Kroatië vliegen. Als je een zoekopdracht doet bij ons dan vergelijken wij automatisch de goedkoopste vluchten van alle luchtvaartmaatschappijen op jouw route, zowel lijnvluchten als lowcost airlines (prijsvechters). Voor lowcost airlines zoeken wij tevens naar luchthavens in de buurt van jouw bestemming voor eventueel extra voordeel!
Wij verkopen vliegtickets vanaf- en naar alle luchthavens wereldwijd. Niet alleen vanaf Brussel (Charleroi of Zaventem) maar ook bijvoorbeeld van Amsterdam, Eindhoven, Maastricht, Antwerpen, Luik, Oostende, Parijs, Düsseldorf etc etc. Alle vliegtickets naar Brač aan de allerlaagste prijs boek je op Goedkopevliegtuigtickets.be.
Goedkopevliegtuigtickets.be: De beste vliegticket prijzen naar Brač, alle airlines, geen onverwachte toeslagen en lage dossierkosten. Gratis betalen met Belfius, ING Homepay, Bancontact/Mrcash, Maestro, Paypal of iDeal. Ook creditcards van Mastercard en Visa zijn meer dan welkom,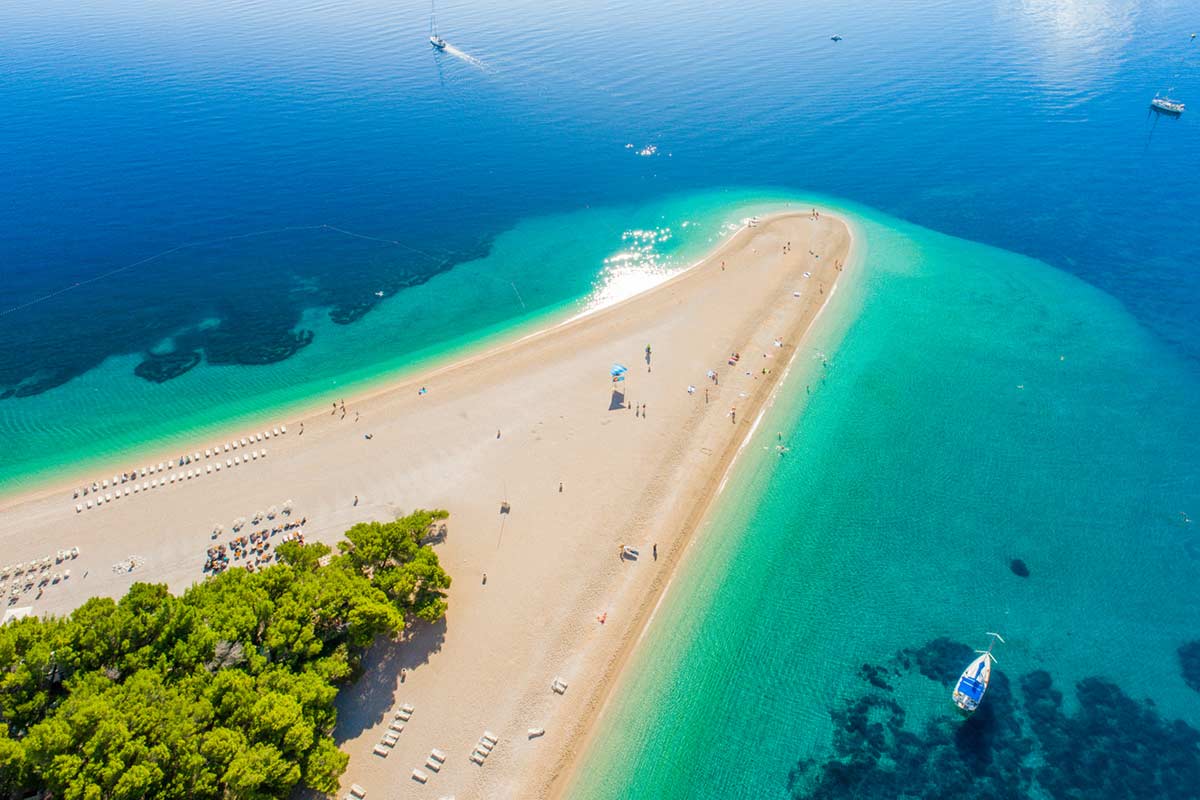 Sprookjesachtig strand: Zlatni Rat bij Bol op het eiland Brač in Kroatie.
Kaart van Brač in Kroatië
Weersverwachting Brač in Kroatië voor de komende 5 dagen:
[forecast location="BWK"]