Vliegtickets naar Almeria boeken (vanaf €)
Vlucht Almeria va €
Boek je goedkope vliegtickets naar Almeria (LEI) aan de laagste totaalprijs.
Wij tonen automatisch de beste vluchten, zonder lange wachttijden of onnodig overstappen.
Almeria
Vanaf prijs heen/terug
Inclusief taksen
Op zoek naar een goedkoop vliegticket naar Almeria (LEI) in Spanje?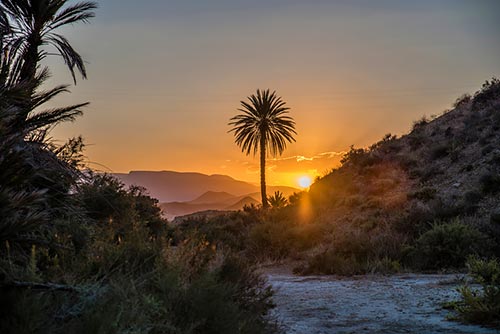 De Costa Almeria ligt in Zuid-Spanje, in de bekende provincie Andalusië. Het is een gebied voor natuurliefhebbers en rustzoekers en veel rustiger dan de nabij gelegen Costa del Sol en de Costa Blanca. Vak liggen twee natuurparken die bijzonder zijn om te bezoeken; de Sierra Maria-Los Vélez en de Cabo de Gata-Níjar. De hoofdstad van de regio is het gelijknamige Almeria, een mooie oude stad met een aantal fraaie bezienswaardigheden, een daarvan is het Fort Alcazaba. De zomers zijn heet in dit deel van Spanje en in de binnenlanden vind je zelfs een woestijnachtig gebied waar filmopnames voor een aantal Amerikaanse westerns hebben plaatsgevonden, dit gebied heet de woestijn van Tabernas en wordt ook wel mini-Hollywood genoemd.
Vliegtickets naar Almeria in Spanje
Boek hier je goedkope vluchten van alle airlines die naar Almeria (LEI) in Spanje vliegen. Als je een zoekopdracht doet bij ons dan vergelijken wij automatisch de goedkoopste vluchten van alle luchtvaartmaatschappijen op jouw route, zowel lijnvluchten als lowcost airlines (prijsvechters). Voor lowcost airlines zoeken wij tevens naar luchthavens in de buurt van jouw bestemming voor eventueel extra voordeel!
Wij verkopen vliegtickets vanaf- en naar alle luchthavens wereldwijd. Niet alleen vanaf Brussel (Charleroi of Zaventem) maar ook bijvoorbeeld van Amsterdam, Eindhoven, Maastricht, Antwerpen, Luik, Oostende, Parijs, Düsseldorf etc etc. Alle vliegtickets naar Almeria aan de allerlaagste prijs boek je op Goedkopevliegtuigtickets.be.
Goedkopevliegtuigtickets.be: De beste vliegticket prijzen naar Almeria, alle airlines, geen onverwachte toeslagen en lage dossierkosten. Betalen zonder toeslag met Belfius, Mastercard, Visa, Bancontact, Maestro of iDeal.
Kaart van Almeria en omgeving