BMI Goedkope Vliegtickets
Boek je BMI vluchten veilig online aan de laagste prijs!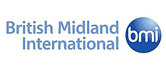 De getoonde prijzen zijn de laagste prijzen die recent door onze klanten zijn geboekt naar deze bestemming(en). De actuele prijs kan gewijzigd zijn en vind je in onze zoekmachine. Prijzen op basis van heen/terug incl taksen. Dossierkosten vanaf € 19,50 (1 pers.) en € 35 (vanaf 2 pers.). Gratis betalen met Belfius, ING Homepay, Bancontact/Mrcash, Maestro, Mastercard, Visa, Paypal of iDeal.
Brussel – Nottingham
Datum heen: 21/09/2018
Datum terug: 28/09/2018

€

177 »
Brussel – Newcastle
Datum heen: 21/09/2018
Datum terug: 28/09/2018

€

213 »
Brussel – Newcastle
Datum heen: 18/07/2018
Datum terug: 25/07/2018

€

259 »
BMI British Midland (BD); meer dan 40 bestemmingen wereldwijd
Voor ons Belgen is Britsh Midland International (BMI) waarschijnlijk vooral bekend van de vluchten die de maatschappij uitvoert naar de UK. Zo kun je vanaf Brussels Airport rechtstreeks meerdere keren per week vliegen naar de luchthavens Edinburgh, Leeds Bradford & East Midlands Airport (vluchten uitgevoerd onder de naam BMI Regional). Toch vliegt de BMI groep naar veel meer bestemmingen in Europa, het Midden Oosten en Afrika. Met 300 vluchten per week naar 40 bestemmingen kun je met BMI bijvoorbeeld ook vliegen naar Aberdeen (Dyce), Alma Ata, Amman (Queen Alia), Belfast, Birmingham Intl, Bristol, Dublin en Edinburgh.
Overigens vliegt BMI zelf niet vanaf Brussel naar London Heathrow (de thuisbasis van BMI). Voor die route zul je met een van de andere airlines moeten vliegen zoals Brussels Airlines of British Airways. De vluchten naar de UK worden met kleinere toestellen, oa van het type Embraer RJ145 uitgevoerd.
Sterke punten BMI British Midland
Rechtstreeks Brussel-Edinburgh
Brussel-Leeds & East Midlands Airport
Gratis 20kg bagage
Ook vluchten naar Schotland
Onderdeel van de Lufthansa groep
Hotels van budget tot luxe
Geen reserveringskosten!
Wagenhuur overal ter wereld
Geen reserveringskosten!
Meer veelgeboekte airlines