Blue Air - Goedkope Vliegtickets
Boek hier alle Blue Air vluchten aan de laagste prijs!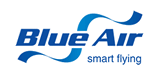 Vliegtickets van Blue Air
De getoonde prijzen zijn de laagste prijzen die recent door onze klanten zijn geboekt naar deze bestemming(en). De actuele prijs kan gewijzigd zijn en vind je in onze zoekmachine. Prijzen op basis van heen/terug incl taksen. Dossierkosten vanaf € 19,50 (1 pers.) en € 35 (vanaf 2 pers.). Gratis betalen met Belfius, Mastercard, Visa, Bancontact, Maestro of iDeal.
Vluchtdagen Brussel-Bacau: Dinsdag en donderdag (vanaf 31 maart 2013).
Vluchtdagen Boekarest: Maandag, woensdag, donderdag (vanaf 31 maart), vrijdag en zondag.
Om de laagste prijzen voor Blue Air te vinden kun je nu bovenaan deze pagina een zoekopdracht doen.
Onze zoekmachine vindt altijd de laagste prijs van elke airline op jouw route. Voor lowcost airlines kijken wij tevens naar alternatieve routes (voor vertrek vanaf Brussel kijken we bijvoorbeeld ook automatisch naar de prijzen vanaf Eindhoven, Dusseldorf Weeze, Luik, Oostende en Rotterdam).

Blue Air
Blue Air is opgericht in Roemenie in 2004. Het is de tweede luchtvaartmaatschappij van Roemenie, naast TAROM. En het is de eerste luchtvaartmaatschappij in Roemenië die 100% commercieel werkt, volledig in particuliere handen is. De maatschappij wil passagiers een veilig, voordelig en gemakkelijk alternatief bieden voor vluchten naar Roemenië.
Enkele speerpunten van Blue Air:
Jonge vloot met moderne toestellen
Zeer ervaren piloten
Gevarieerd routenetwerk binnen in en buiten Roemenië
Eigen grondpersoneel op al haar bestemmingen
Meer dan 25 bestemmingen
Voordelig: Hoe vroeger je boekt, des te lager de prijs
Miljoenen passagier hebben al met Blue Air gevlogen. Ben jij de volgende? Boek snel en eenvoudig op onze website en betaal veilig met MrCash/Bancontact, iDeal, Online Banking, Creditcard of Maestro.
Online inchecken
Geniet van het gemak van online check-in. Inchecken via internet kan in een paar gemakkelijke stappen:
Houd je paspoort bij de hand
Regel je check-in online
Kies je zetelnummer(s) (niet op alle routes beschikbaar)
Print je boarding pass
Ruimbagage
Ruimbagage op Blue Air vluchten is niet gratis inbegrepen, houd hier rekening mee als je de prijzen vergelijkt met lijnvluchtmaatschappijen zoals Tarom en Brussels Airlines (bij lijnvluchtmaatschappijen mag je altijd minimaal 20kg bagage gratis meenemen). Bagage op Blue Air vluchten kan aan een extra toeslag bijgeboekt worden in onze zoekmachine, tijdens het maken van je reservering. Het is verstandig dit op voorhand te regelen want op de airport betaal je aanzienlijk hogere prijzen. De actuele prijs voor het meenemen van een koffer zie je tijdens het maken van je boeking.
Handbagage
Je mag gratis 10kg handbagage meenemen aan boord van Blue Air vluchten. De maximale afmetingen van je koffer: 55 x 40 x 20 cm. Je kunt de afmetingen van je handbagage eventueel nog controleren op de luchthaven bij de Blue Air balie.
Meer informatie over de bagageregeling van Blue Air
vind je hier
.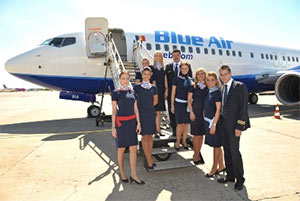 Blue Air highlights
Lowcost airline uit Roemenie
Rechtstreeks Brussels Airport-Boekarest (4-5x p/w)
Rechtstreeks Brussels Airport-Bacau (2x p/w)
Toffe deals naar Boekarest en Bacau
Gratis 10kg handbagage meenemen
Online checkin en e-tickets regelen vanuit huis
Tickets eenvoudig betalen met MrCash/Bancontact, MrCash/Bancontact, ING Homepay, Belfius, Maestro, iDeal of creditcard!