Op zoek naar een goedkoop vliegticket naar Stavanger (SVG) in Noorwegen?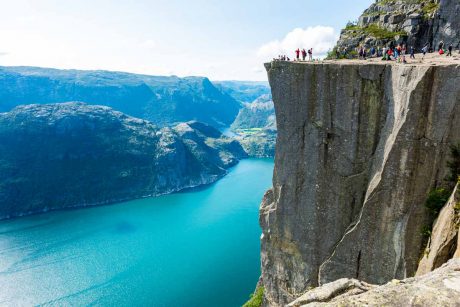 De stad Stavanger ligt in de gelijknamige regio Stavanger, gelegen aan de schitterende Lysefjord vlakbij de beroemde Preikestolen (De Preekstoel). Het plateau van Preikestolen ligt op 604 meter hoogte en is een van de meest gefotografeerde plekken in Noorwegen, een adembenemend uitzicht! Stavanger is een studentenstad met een jonge levendige sfeer, met veel restaurants en uitgaansgelegenheden. Stavanger is in 2008 benoemd tot Culturele Hoofdstad van Europa en het culinaire festival Gladmat (ieder jaar eind juli) trekt minstens 200.000 bezoekers jaarlijks. Het centrum van Stavanger is vrij prima te belopen. De oude binnenstad van Stavanger bestaat onder andere nog uit meer dan 160 witte houten huizen en dat is uniek in Europa.
Vliegtickets naar Stavanger in Noorwegen
Boek hier je goedkope vluchten van alle airlines die naar Stavanger (SVG) in Noorwegen vliegen. Als je een zoekopdracht doet bij ons dan vergelijken wij automatisch de goedkoopste vluchten van alle luchtvaartmaatschappijen op jouw route, zowel lijnvluchten als lowcost airlines (prijsvechters). Voor lowcost airlines zoeken wij tevens naar luchthavens in de buurt van jouw bestemming voor eventueel extra voordeel!
Wij verkopen vliegtickets vanaf- en naar alle luchthavens wereldwijd. Niet alleen vanaf Brussel (Charleroi of Zaventem) maar ook bijvoorbeeld van Amsterdam, Eindhoven, Maastricht, Antwerpen, Luik, Oostende, Parijs, Düsseldorf etc etc. Alle vliegtickets naar Stavanger aan de allerlaagste prijs boek je op Goedkopevliegtuigtickets.be.
Goedkopevliegtuigtickets.be: De beste vliegticket prijzen naar Stavanger, alle airlines, geen onverwachte toeslagen en lage dossierkosten. Betalen zonder toeslag met Belfius, Mastercard, Visa, Bancontact, Maestro of iDeal.
Brussel - Stavanger
Datum heen: 09/02/2024
Datum terug: 13/02/2024

€

232 »
Brussel - Stavanger
Datum heen: 30/10/2023
Datum terug: 06/11/2023

€

301 »
Brussel - Stavanger
Datum heen: 23/02/2024
Datum terug: 01/03/2024

€

308 »
Brussel - Stavanger
Datum heen: 20/12/2023
Datum terug: 27/12/2023

€

336 »
Brussel - Stavanger
Datum heen: 25/12/2023
Datum terug: 27/12/2023

€

347 »
Kaart van Stavanger in Noorwegen