Vliegtickets naar Hamburg boeken (vanaf €102)
Vlucht Hamburg va €102
Boek je goedkope vliegtickets naar Hamburg aan de laagste totaalprijs.
Wij tonen automatisch de beste vluchten, zonder lange wachttijden of onnodig overstappen.
Hamburg
Vanaf prijs heen/terug
Inclusief taksen
Op zoek naar een goedkoop vliegticket naar Hamburg (HAM) in Duitsland?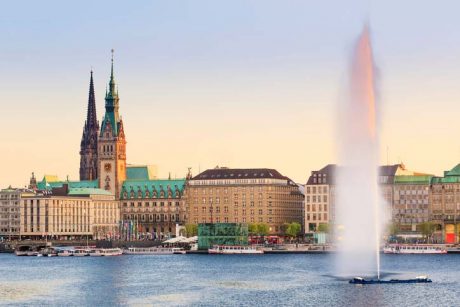 Hamburg is een waterrijke stad met veel grachten, vergelijkbaar met bijvoorbeeld Amsterdam. Dat geeft de stad een bijzondere sfeer. Hamburg is wat minder bekend als stedentrip bestemming maar is enorm levendig en kleurrijk. Je vindt er veel groen en water, hippe wijken, de ruigere buurt St Pauli, de gezellige Altstadt en nog veel meer.

Een bijzondere wijk is ook Hafencity, met zicht op de grote haven van Hamburg. Hier worden regelmatig wandelingen georganiseerd met gids. Ook vanaf de Rathausmarkt kun je iedere ochtend om 11 uur meedoen aan een wandeling door de stad, onder leiding van een gids.

Tip: Ben je binnenkort een paar dagen in Hamburg? Schaf dan een Hamburg Card aan. En wil je nog veel meer lezen over Hamburg? Kijk eens op deze leuke Blog van Fem.
Vliegtickets naar Hamburg in Duitsland
Boek hier je goedkope vluchten van alle airlines die naar Hamburg (HAM) in Duitsland vliegen. Als je een zoekopdracht doet bij ons dan vergelijken wij automatisch de goedkoopste vluchten van alle luchtvaartmaatschappijen op jouw route, zowel lijnvluchten als lowcost airlines (prijsvechters). Voor lowcost airlines zoeken wij tevens naar luchthavens in de buurt van jouw bestemming voor eventueel extra voordeel!
Wij verkopen vliegtickets vanaf- en naar alle luchthavens wereldwijd. Niet alleen vanaf Brussel (Charleroi of Zaventem) maar ook bijvoorbeeld van Amsterdam, Eindhoven, Maastricht, Antwerpen, Luik, Oostende, Parijs, Düsseldorf etc etc. Alle vliegtickets naar Hamburg aan de allerlaagste prijs boek je op Goedkopevliegtuigtickets.be.
Goedkopevliegtuigtickets.be: De beste vliegticket prijzen naar Hamburg, alle airlines, geen onverwachte toeslagen en lage dossierkosten. Gratis betalen met Belfius, ING Homepay, Bancontact/Mrcash, Maestro, Paypal of iDeal. Ook creditcards van Mastercard en Visa zijn meer dan welkom,
Kaart van Hamburg in Duitsland
Weersverwachting voor Hamburg in Duitsland voor de komende 5 dagen:
[forecast location="Hamburg, Germany"]